Not everyone is experienced enough to be able to recreate the desired positions during intercourse.
A sex pillow is a liberator that manages to widen the range of possible motions and make your sex sessions safe, comfortable and especially enjoyable.
You'll have a chance to try an exotic position and finally experience an unbelievable orgasmic bliss. A new impression for your brain that you'll be looking forward to again and again!
Detailed Descriptions & Customer's Feedback
Now let's pass on to the details and special features of these amazing sex enhancement tools.
Liberator Sex Position Wedge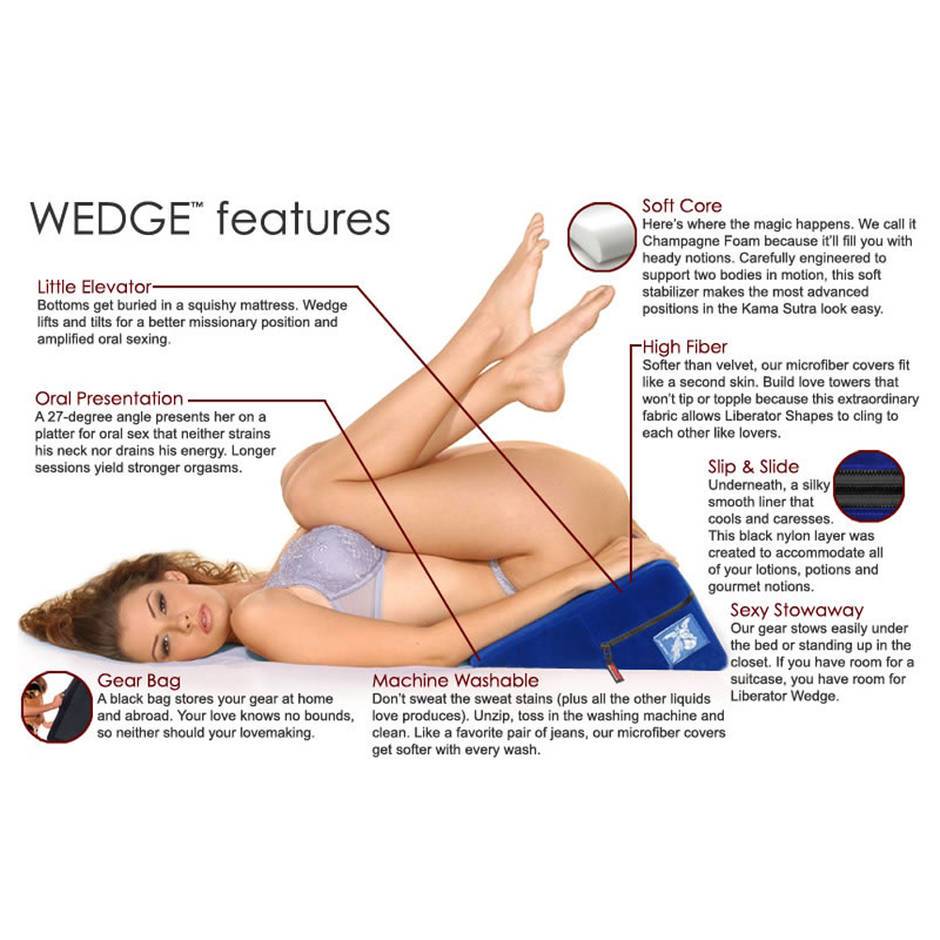 One of the nicest enhancements for your bedroom!
This sex pillow by Liberator is mutually attractive: it elevates the lovers' bodies at a perfect physiological angle providing a more intensive contact with the clit and deeper penetration of the penis.
Besides, the angle is specially designed for women willing to finally reach this incredible g-spot orgasm.
If you're in search of magnifying sensations, it's high time to try a new way of getting pleasure thanks to the impressive items offered by the Liberator company. Wedge will not only bring physical bliss into your everyday intimacy.
It will also develop your regular relationship in a couple. Users of sex pillows agree that their presence at home literally makes partners beg each other for more sexual pleasure.
It's inspiring for partners of all genders and sexual preferences – you just have to relax and make sure your partner is ready to cooperate with you.
Material

The microfiber cover of the pillow can be removed and washed in the machine. The base of the Wedge sex pillow is made of the so-called champagne foam. It's soft, warm and smooth for any part of your body.

Measurements

Wedge sex pillow weighs two pounds. The dimensions are 14x24x7 inches. The parcel will weight a bit more than 3 pounds. The overall size of the pillow allows discreet and convenient storage under most beds. The size will be suitable for a closet as well.

Design & Color

Presented in blue or black microfiber.

Special Features

·         An incomparable sex boost promoting deeper penetrations and more intensive clit stimulation;

·         The manufacturer promises a wide motion range;

·         It's one of the most expensive and most effective options at a time.
Liberator Sex Position Wedge
Wedge Customer Feedback
It actually feels smooth and it's definitely resistant to all types of liquids;
Incredible for a missionary sex position;
Offers a really deep penetration without compromising comfort;
It's lightweight and sturdy at a time;
Leads women to unpredictable squirting orgasms;
Some customers use Wedge as an actual workout tool.
Liberator Sex Position Wedge Ramp Combo
One of the best lift bros for people willing to get maximum pleasure from regular intercourse. Most users call it one of the greatest inventions in the world of sex pillows.
It's ready to face your desires and satisfy your needs as well as the needs of your partner. It's a revolutionary tool for deeper, lustful and more intensive action.
The Wedge sex pillow produced by Liberator is firm enough to hold two moving bodies at once. Just make sure it's clean and dry before you proceed with the action.
Material

Made without latex. The Wedge Ramp Combo case is removable. It's fully made of non-slip microfiber and can be loaded into a regular washing machine. The surface of the fabric is resistant to the impact of all types of liquids.

Measurements

Ramp measurements are 34x24x12 inches. Wedge measurements are 24x14x7.

Design & Color

Black or red, silky and stylish. Looks like a piece of exercise equipment or an exquisite furniture piece. Discreet, attractive, and convenient.

Special Features

·         The cushions are detachable. They can be used to enhance any of your sex positions.

·         The pillow makes you have sex at the best angle (27 degrees), which enables you to get in contact with the most sensitive spots of the intimate parts of your body.

·         The Liberator cushions in the construction are destined to enlarge your range of motion as well as the one of your partner.

·         Stable balance and support of the construction will lead you to mind-blowing orgasms.

Wedge Ramp Combo Customer Feedback
Most suppliers send the Wedge Ramp Combo sex pillow in an incredibly large box. They fill the parcel with soft stuffing in order not to damage the ordered item. Make sure you have someone to help you get it into the house and don't feel embarrassed, because every supplier working in collaboration with the manufacturer of the Wedge Ramp Combo sex pillow is obliged to deliver the discreetly looking parcel. There won't be any signs or stamps on the surface of the parcel that can reveal your secrecy.

The Wedge Ramp sex pillow looks luxurious and sleek. It's perfect for the use in bed. It's lightweight and sticks to the bedsheets without ruining them.

It's pleasing to lie on the Wedge Boost after the sex act.
The size may feel a bit too much for some users. Nevertheless, the maintenance is simple and the overall quality of the construction is enjoyable.
Adam & Eve Inflatable Position Pillow
This sex pillow can be a nice budget replacement for the well-known and tested Wedge sex pillows. It is ready to support your every sex position.
It's one of the most affordable bed toys on the market and it also works as a nice liberator of movements in the process of sexual intercourse.
The physiologically designed shape of these pillows is destined to support your chief muscles and joints while you enjoy intimacy with your partner. It holds your back, chest, and hips better than your bed.
Material

The surface of this liberator sex toy is made of a flocked material that prevents unwanted slippage – the pillow will always stay in place no matter how hard your actions are.

Measurements

The overall length is 24 inches with 16 inches width. The height of the platform is 4-8 inches depending on the curve.

Design & Color

Special Features

·         Adjustable to a lot of positions;

·         Lightweight and easily gripped;

·         Compact and discreet for everyday use and storage;

·         The pillow has a built-in seal valve for a natural feel;

·         Maximum weight is 300 pounds.
TIP: In case if you're a sophisticated user interested in the development of your sexual experiences, you can let your partner tie you up to this pleasure tool, relax your limbs and enjoy all pleasures of the sexual intercourse in a perfect physiological position.
Adam & Eve inflatable position pillow is perfect for the couple as well as for the solo action. You can rest on it after you reach your throbbing orgasmic sensation.
It's pleasing to the touch and it doesn't demand any specific maintenance.
This sex pillow is not only a financially sensible solution – it will deliver new thrills to your regular intimacy.

Sex Pillow Benefits
In case if you've never been interested in sex pillows, consider the following:
Pillows help you get to the explosive mutual orgasms due to their physiological structure. Even the cheapest versions are able to spice up your sexual life.
Pillows make you bodies automatically adapt to the most physiologically satisfactory positions. In case if you're a newcomer in the world of intimate pleasure, a sex pillow can become one of your best investments. It will help you explore deeper into your sexuality and get used to getting orgasms from vaginal, anal, oral, and other types of sex without any specific knowledge. A pillow like this will direct you intuitively.
Quite a lot of women agree that the best sex pillows are perfect for getting pregnant in case if you are following the prescribed schedule. Every sex pillow is designed with the anatomy in mind and it doesn't demand any specific knowledge to be properly used.
A sex pillow is a flawless tool for those who want to discover the hidden peculiarities and best possibilities of your body. The Wedge by Liberator is one of the most expensive options. Nevertheless, even the least expensive pillows will add up spice to your sex life.
It's a Delicate Matter
Be prepared that the parcel containing your best sex-pillow will be lightweight, but quite big.
We'll have to fill in the parcel with a lot of soft and elastic filling in order to preserve the structure and functionality of the pillows inside.
These thingies are very fragile. Your parcel will never have any specific signs and stamps on the outside.
You'll get your parcel discreetly. It's especially important in case if you're planning to make a sweet surprise for your partner.
Bottom Line
Use your sex pillow with vibrators, Symbian machines, and best dildos. Never forget about a water-based lubricant in case if you're interested in a true-to-life wet action.
Keep in mind that using massage oils on the surface of sex pillows can lead them to unwanted deterioration.